Aug./2018 NO.4
A10S RTU water quality monitoring solution
| | | |
| --- | --- | --- |
| | Why water quality monitoring ? | |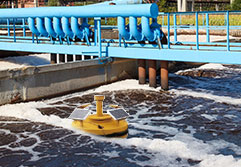 With the rapid development of global economy, the large number of chemicals used in our everyday lives and in commerce that can make their way into our waters. According to the World Water Assessment Programme report, every day a staggering two million tons of human waste is disposed into water courses, keeping tabs on water quality is critical. So smart water quality monitoring solution is increasingly required, especially the LoRa network development enjoys great popularity due to its lower power consumption, long transmission distance, wide coverage.
| | | |
| --- | --- | --- |
| | Hongdian water quality monitoring solution | |
Solution Brief Intro
Hongdian water quality monitoring solution consists of sorts of sensors, Hongdian A10s RTU, LoRa gateway, cloud platform. Sensors acquire the data of PH levels, Turbidity, salinity, Temperature and more and send data to A10S by Analog input or R232, A10S translates analog data into digital data, then transmits the digital data to A10 G by loRa, A10G uploads the digital data to platform by 4G, Clients provide API or use Hongidan's APP to access Hongdian platform for remote managing.
Topological diagram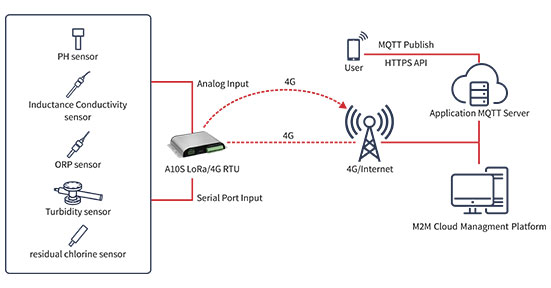 | | | |
| --- | --- | --- |
| | Hongdian LoRa Module & Gateway Features | |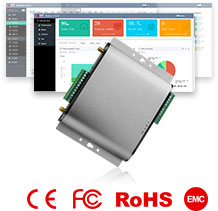 12-bit sampling analog-to-digital converter
Automatic report & timing sampling
-20~+70 harsh environment 7*24h connectivity
Dual serial ports Up to 921600 baud rate Analog input, RS232, RS485
Ultra low power mode, controlled power output Idle consumption < 10μA
World-wide 4G compatible MQTT/Modbus
Reprogramming Python and c
Industrial Automation
Meteorological
Precision Agriculture
Automatic Meter Reading
Oil field
Energy Monitoring
Suitable for scenarios with various sorts of sensors and massive sites
Customizable for rich application scenarios
Strong management capacity
Flexible networking deployment
API interfaces for ease of development
Remote devices monitoring
Multiple reports with chart
Water quality anomalies reported immediately
Reduce response time to water quality incidents
Monitor and optimize water quality and regulatory reporting
Real-time situational awareness for water quality and public health
| | | |
| --- | --- | --- |
| | IoT Insights | |
For water quality monitoring solution contact & Query,quickly reach us by following ways

Tel: +86-755-88864288-5
Email: Sales@hongdian.com
Fax: +86 755 -83404677
Web: www.hongdian.com